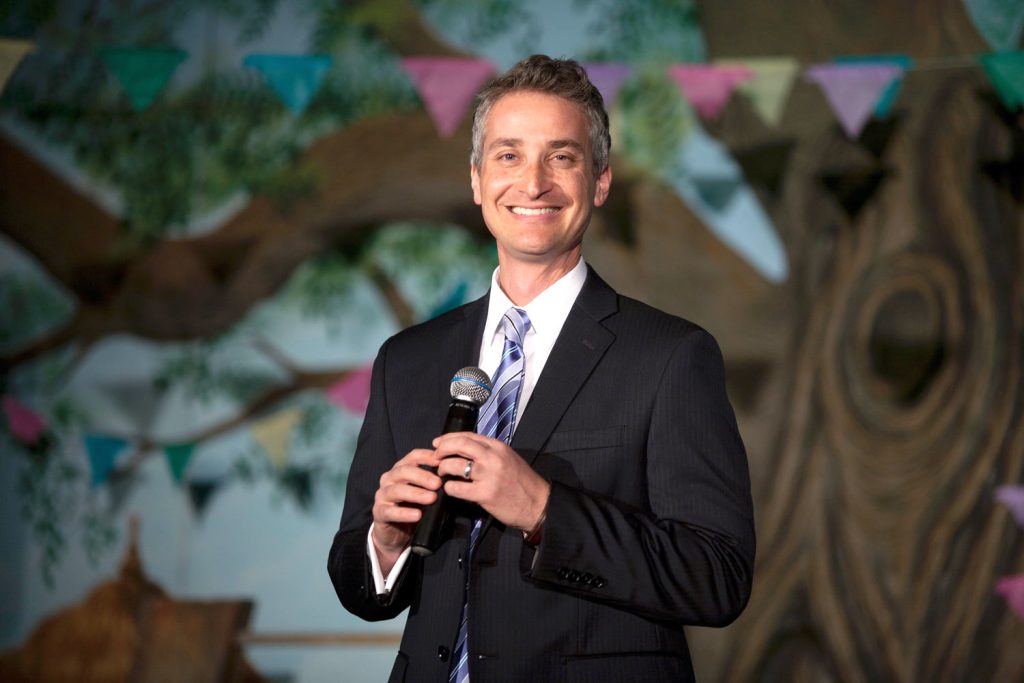 "Your insight personally challenged all of us to alter our perspective and way of thinking… I can't even begin to tell you how much positive feedback I had from all our guests".
— Chrystal Montes, Real Estate Event Manager, CBRE
Want to grow your Portland business? Improve your teamwork? Wow your customers? You'll need more than a strong skill set; you also need the optimal mindset. Business speaker Scott Greenberg helps leaders develop both. 
It starts with your meeting. That's where your people come, hungry for ideas and inspiration. They want to laugh. They want to learn. Their time is valuable. Every moment counts. It's not enough for speakers to educate your group; they must also engage them. Learn More About Scott.
Scott draws on years of experience in business and on stage to energize conferences near Portland and transform companies. He's presented motivational presentations in all 50 U.S. states and throughout the world.  His diverse client list countless associations. See Scott's clients. 
Scott will customize his engagement around your theme. He'll ensure your group leaves with practical ideas they can immediately use. (Click here to see him in action)

     The Mindset for High Performance Business Leadership

     The Wealthy Franchisee Mindset: How Top Franchisees Think, Thrive & Grow Their Business

     Better Teams, Bigger Business: How to Grow Your Business with Employees Who Are All In

     Creating a Culture of Killer Customer Service

     Continued Improvement & Adapting to Change
"We were very impressed that Scott took the time to learn about our brands, our franchisees and us so that he could customize his presentation to our needs. Very few motivational speakers these days take that time. This extra effort showcased Scott's dedication to providing a best in class presentation for our brands."
— Jennifer Johnston, Chief Marketing and Operations Manager, Global Franchise Group
In addition to business keynote speaking, Scott facilitates leadership workshops, seminars and breakout sessions in Portland. These programs allow for deeper discussion and more interaction. Scott will design his workshop around your group size, time frame and goals.  
"That was great. Everyone I spoke with said you did a superb job. We can't thank you enough."
–Bo Fisher, CEO, Fisher Auto Parts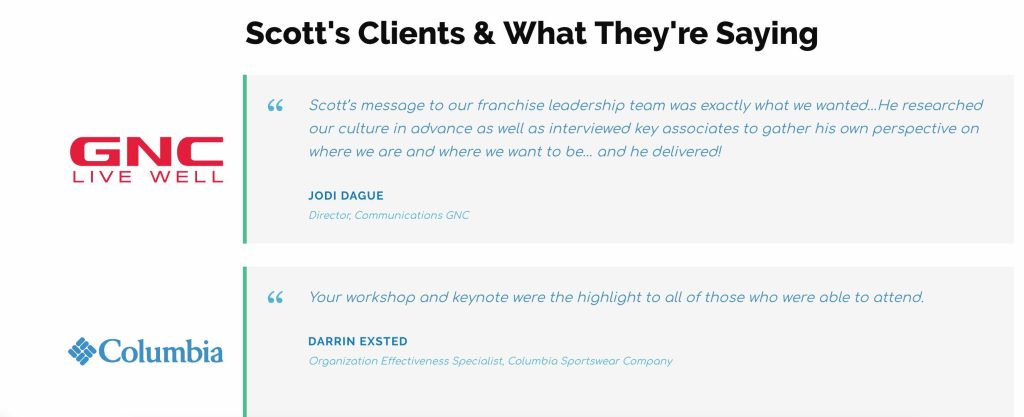 Perhaps you already have experts in your Portland organization who'd like to share their knowledge. Scott can prepare your panel and moderate discussion to ensure the conversation is productive and engaging.
"He really did his homework to understand our brand. Scott was able to connect to the franchisees at a deep level, and brought the kind of third party credibility that we needed to inspire everyone…Scott was an absolute '10 out of 10'!"
–Kara Bowen, Community Manager, Honey Dew Donuts
Want help with your Portland business? Scott will bring his years of franchise related experience to your organization. Together you'll examine your current operation, identify opportunities and develop an action plan.
Scott's main areas of focus are:
     Enhancing Customer Service

     Motivating Employees

     Building a Strong Team Culture

     Tightening Operations
Contact Scott now to learn more about how he can help you take your Portland business to a higher level.
"Scott was lively, funny, poignant and credible… we are still referring to the terminology he used and I truly believe he had an impact on everyone who heard him speak."
–Eric Ersher, Founder & CEO, Zoup! Fresh Soup Company
 

Real world business experience (Read about Scott here)

 

Decades of professional keynote speaking experience

 

Customization around your needs, theme and goals

 

Follow-up content, including written articles and videos (See blog and video gallery)

 

Easy to work with – no divas here!